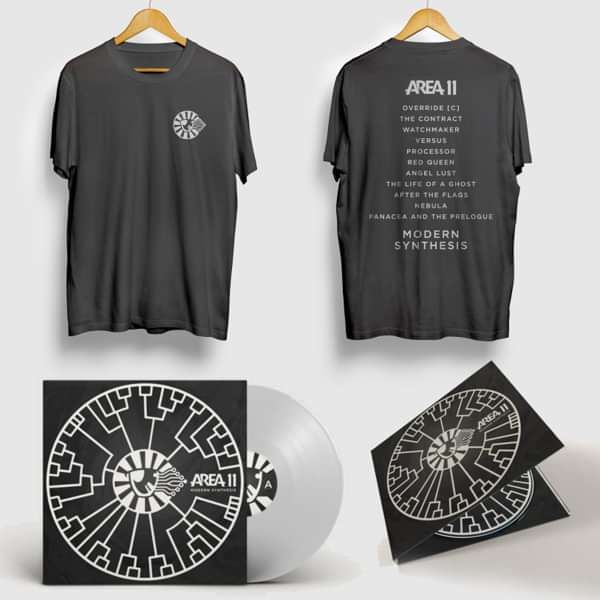 Modern Synthesis Ultimate Bundle - (T-shirt, Vinyl & CD)
Join us in celebrating the 5 year anniversary of the release of Modern Synthesis with the ultimate ModSynth bundle!
A long time ago we sold out of all the ModSynth CDs and Vinyls so to mark the occasion we've ordered a limited amount more!
This bundle includes:
Modern Synthesis DELUXE CD - Comes housed in an embossed digipak sleeve with an expanded 20 page booklet which contains extra photos and lyrics
Modern Synthesis Vinyl - pressed on heavyweight 180g 12" GREY vinyl 180g
Modern Synthesis Album T-shirt - with the classic logo on the front and the track listing on the back
All with a lovely 15% discount!
Modern Synthesis Track Listing:
Override [C]
The Contract
Watchmaker
Versus
Processor
Red Queen
Angel Lust
The Life Of A Ghost
After The Flags
Nebula
Panacea And The Prelogue
$65.54
Select from options below to add to basket
This bundle also includes:

Modern Synthesis - T-shirt - Charcoal

Join us in celebrating the 5 year anniversary of the release of Modern Synthesis!

Get your hands on the definite album t-shirt with the classic logo on the front and the track listing on the back.

This bundle also includes:

Modern Synthesis (CD)

So here we are! Now celebrating the 5 year anniversary of Modern Synthesis! After selling out some time ago we've decided to reorder a bunch more CDs. If you missed out last time, now is your chance to get one!

This version is the DELUXE CD comes housed in an embossed digipak sleeve with an expanded 20 page booklet which contains extra photos and lyrics.

Track Listing:

Override [C]
The Contract
Watchmaker
Versus
Processor
Red Queen
Angel Lust
The Life Of A Ghost
After The Flags
Nebula
Panacea And The Prelogue

This bundle also includes:

Modern Synthesis (12" Vinyl)

Join us in celebrating the 5 year anniversary of the release of Modern Synthesis!

To commemorate this occasion we've ordered a limit amount more of these previously sold out vinyls!

This version is the pressed on heavyweight 180g 12" GREY vinyl 180g

Track Listing:

Override [C]
The Contract
Watchmaker
Versus
Processor
Red Queen
Angel Lust
The Life Of A Ghost
After The Flags
Nebula
Panacea And The Prelogue