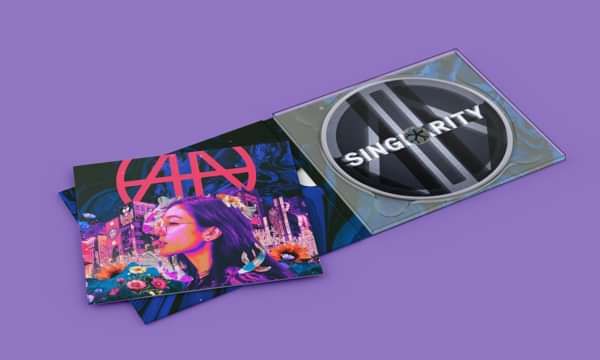 SINGLARITY BUNDLE! (CD & Poster)
The full SINGLARITY bundle with a nice ol' bundle discount, just like we did back in the old country.
And you thought 'bundle' meant everyone pile on top of an unsuspecting friend.
This bundle includes:
SINGLARITY (CD) [LIMITED EDITION]
It's here. SINGLARITY on CD. Bringing this chapter to a close. It's been such fun making these singles and here they are in a shiny anthology just for you!
Full colour very limited edition digipak and art/lyrics booklet with love from us to you.
---
All Your Friends
New Magiks
Everybody Gets a Piece
Curtain Fall
Tear Up
ØCULIST
Kaleidoscope
Desaturate
(Break) In Case Of...
Dancing on the Head of a Pin
Singularity
SINGLARITY Poster (Neo-Widescreen)
The greatest poster ever made! Celebrating the physical release of SINGLARITY we've made a one time limited run of posters based on the album artwork.
And for all of you who are still convinced physical space isn't an illusion created by consciousness, the poster measures 60cm X 30cm (it's about as wide as a hug from an elf).
$23.30
Select from options below to add to basket
This bundle also includes:

SINGLARITY Poster (Neo-Widescreen)

The greatest poster ever made! Celebrating the physical release of SINGLARITY we've made a one time limited run of posters based on the album artwork.

And for all of you who are still convinced physical space isn't an illusion created by consciousness, the poster measures 60cm X 30cm (it's about as wide as a hug from an elf).

This bundle also includes:

SINGLARITY (CD) [LIMITED EDITION]

It's here. SINGLARITY on CD. Bringing this chapter to a close. It's been such fun making these singles and here they are in a shiny anthology just for you!

Full colour very limited edition digipak and art/lyrics booklet with love from us to you.

---

All Your Friends
New Magiks
Everybody Gets a Piece
Curtain Fall
Tear Up
ØCULIST
Kaleidoscope
Desaturate
(Break) In Case Of...
Dancing on the Head of a Pin
Singularity